How to stay on track while working from home
You can get a lot done, but it's crucial to keep your balance. Here's how you can preserve some of your sanity.
"We're all in this together."
We've been hearing that a lot lately, from companies, government officials and each other. And that's good, because we really are.
The only thing is that we're not actually…together. I've been working at home since March 4. No airplanes and hotels (which is OK), and no face-to-face with my clients (which is not OK).
I've been taking notes on this new work/so-called-life balance. Here are a few observations:
1. Time flies.
I don't know about you, but I feel like time is speeding up. Every morning, I get up at 5, like I always do, drink some coffee, sit at my home office desk and dive in.
I talk with my team. I talk with our clients. I work on content and strategy with them and have conference calls. I can't believe how insanely busy I am, despite not going anywhere.
I look up. It's 4 p.m.! Is this happening to you?
2. You have to take breaks.
I had to learn this. I could crank away all day and never get up. I've never been busier, and because we're all working at home, people answer their phones and emails! So, I take walks with my wife, the glorious Nora Duff. We walk to Lake Michigan. We walk through the park. We walk to the grocery store.
At Walgreen's, the staff actually used tape to create squares on the floor so everyone can practice good social distancing. Then some guy gets in line and stands right behind us. Nora turned and told him, "Hey, back up!" He did.
Nora's my hero. Do not mess with her during a pandemic, or any other time, come to think of it.
3. Here's a crazy idea: Read a book.
I'd like to suggest "A Gentleman in Moscow," a novel by Amor Towles. It's about a Russian count who is arrested by the Bolsheviks and sentenced to house arrest at a luxury hotel in Moscow. If he leaves, he will be shot. Spoiler Alert: He makes the most of it—and so should we.
There are great TV shows and movies to watch. Personally, I don't know why anyone would watch "Contagion" right now, but whatever floats your boat. The teenage daughter of one of our clients loves all things zombies. World War Z? Whatever makes you feel better, kid.
Our preferences run more to "The Thin Man" series, "Casablanca" and the Marx Brothers. Be sure to watch your "comfort" films. Nora likes "Jaws" and "The Exorcist." That's another column.
Our 34-year-old son's favorite is 1985's "Back to the Future." James the Younger is a video editor now working from his Brooklyn home with his wife, Maggie, who works for the Daily Mail. They're making the most of it, though I wasn't so sure after I read this text message:
Wicker Man and Bob Ross? Eclectic. But I'm not sure which is more frightening.
I thought about growing a beard to mark the pandemic. Then Nora told me I looked like a "strung-out Papa Hemingway" sucking down way too many Mojitos. I shaved.
4. Fun with animals. We like to play a little game called, "Where's Harvey?" Harvey is our giant cat, and you would think he would be easy to spot. But he still finds places to hide, such as curling up in our bed. Thankfully, he's on Nora's side.
5. Kocktail Klatch. We can't get together with our friends, so we're starting a series of virtual happy hours. Get on the phone, on Skye or Zoom, and raise a glass. Maybe three. Check in with your pals. They'll appreciate it.
 6. Social director. We started a dance party. OK, it's just the two of us, but it's really fun, and you don't have to be a good dancer. You just have to move. Here's a good one to get you started. Simple and fun, and everyone loves to twist.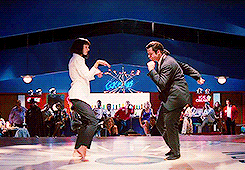 Gotta go. I've got three more conference calls before the end of the day and a little more editing before dinner and tonight's Dance Party.
So what's your working-at-home story?
Jim Ylisela is the co-founder of Ragan Consulting Group. He specializes in brand journalism and building news desks. If you want help with your editorial approach or brand journalism efforts, let us know.